The Ventura County Star is reporting that a Mt. San Antonio College football player was arrested on suspicion of battery of a sports official. The player is accused of punching and knocking out a referee during a football game.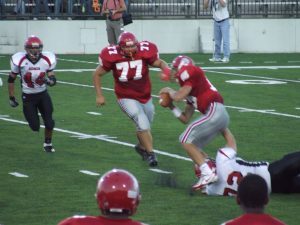 California is one of the few states that has a specific law for "battery against a sports official." The crime is a misdemeanor and carries up to 364 days in jail and a $2,000 fine. The law only applies if a sports official is attacked because he or she is a sports official and the crime occurred in relation to his or her duties. In other words, if you get into a bar fight with someone unrelated to their job, there is not an increased penalty just because he or she is a sports official.
If the injury is seriousness enough, someone can be arrested on a felony charge of battery with great bodily injury, which can be a strike under California's three strikes law or battery with means likely to cause great bodily injury. These can be filed as additional charges of battery against a sports official.
Interestingly, the reports are saying that the arrested player claims he never hit the referee on purposes. He claims that after becoming angry with an opposing player, he hit himself on the helmet to calm himself down. Apparently, he missed his own helmet and struck the referee instead. Whether this is a viable defense will depend on any further video of the incident, eyewitness testimony and the version of events from both the defendant and the alleged victim. If there was no intent to strike the official, then the battery charge cannot stand. This may be a question for the jury.
Either way, welcome to football season.
If you or a loved one are accused of a crime, do not hesitate to contact the Law Offices of Jerod Gunsberg at (323) 633-3423 or via this contact form.
Photo Credit: Daniel Lewis
Related Categories